Open your home to greater possibilities with our elegant Restorations Sliding Patio Door. With the look and feel of a classic door and the safety and security to ease your mind, the choice is clear.
Our patio doors contain a structural three point locking system that is actuated with just a turn of the knob, or for even more added security, the use of a key. The three locks simultaneously engage into the keepers in the door jamb when the door is closed and recess into the door panel when not locked or the door is open.  Tired of hassling with patio door blinds? Our patio doors come with the option for built-in blinds so you won't have to worry about dusting or breaking blinds again.
Features
Sliding Patio Door Features
Forever Finish brass handles are standard

Eliminates chance of tarnishing and pitting

Three-point locking system for added security and peace of mind
Keyed exterior handle for added security
Optional combination ventilation and dead bolt foot lock for greater security and convenience
QuadSealTM weather-stripping provides protection from drafts and offers twice the amount of weather-stripping used on most other doors
Custom sizes available to match your existing opening
Five different handle finishes and an array of door color options to easily match the look of your home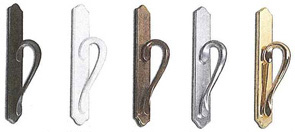 Oil-Rubbed Bronze, White, Antique Brass, Brushed Nickel, Forever Finish Brass (standard)

Our sliding patio doors come standard with a concealed three-point locking system. The locks all engage at the same time into the mechanism to provide a secure door.
Color Options
Weather Tight sliding patio doors come in a variety of interire and exterior colors. Interior casings can also be prestained or prepainted to match your existing casings.
Glass Options
Restorations Patio Doorshave a variety of different glass options to suit your style, taste and budget. We offer a wide range of decorative options to coincide with our double and triple pane insulated glass windows.
Double Pane
The double pane window Ultra-U VSS Glass System is insulated with argon gas between the two panes of glass.
Triple Pane
Triple pane windows are the most insulated glass option available for replacement windows. Our triple pane window is made from two panes of the Ultra-U VSS Glass System and a third pane glass, with sound absorbing properties, in-between them. Krypton90 glass replaces the argon gas of the double pane and fills both air spaces of the triple pane window.
Grid Styles
There are a few options and styles when it comes to adding grids to your windows. For an easy-to-clean window the grids can be inserted between the panes of glass in a double pane window. If you prefer the quality of insulation in a triple pane window, grids can be set on the outside of the window.
Etched Glass
Etched glass gives you the option of adding a decorative touch to your window. There are several different styles of v-groove etched glass to choose from.
SunBlinds Options
SunBlinds are great options for homeowners who hate dusting and cleaning their blinds. SunBlinds are inserted between the patio door glass panes. A new side slide "lift and tilt" operator is available for the white blinds in select size doors.

SunBlind color options

Warranty
Weather Tight takes pride in their workmanship and the manufacturing companies that we work with do too. All of Weather Tight's doors come with a manufacturer-backed warranty that not only covers manufacturing defects, but our workmanship as well. Rest assured that your new doors will be installed correctly, guaranteed.
Patio Doors Warranty
Weather Tight offers a lifetime non-prorated transferable warranty on all Restorations Patio Doors. This warranty is very inclusive and covers things that most warranties do not such as glass breakage and screen damage. You will no longer have to worry about the neighbor's son throwing his baseball through your patio door or having a rock break the glass after it was kicked up by your lawn mower. The screen warranty states that the screen will not to rip, tear, warp, crack, break or otherwise fail for your entire lifetime. This warranty covers labor on any service call. Read the full details of the warranty.
Q&A
Is there a charge for the consultation?
How can we see samples of your product?
Weather Tight offers free, no obligation estimates in which experts can stop out, take measurements, and show you working samples and color swatches. They will also provide you with written warranties for your examination as well as a price quote. Otherwise, you can visit our Idea Center where customers may stop in to see working samples (114th & Oklahoma).
How can I receive a written quote?
Since our products are custom made to order for YOUR home, we recommend that you set up a free in home consultation. The expert will take precise measurements and provide you an accurate quotation, guaranteed for one year.
Who will need to participate in the estimate process?
All homeowners need to be present for the consultation. We also suggest that you invite anyone whose input you value, such as a friend, relative, or significant other.
If I am having an issue with my current product, what do I do?
Contact us immediately. We will be more than happy to help as best as we can. You can contact us at 414-459-3896. To expedite your call, please have your phone number, name, address, and a brief description of the issue available. Don't have time to call? You can send us an email at service@weathertightcorp.com. One of our representatives will contact you back via email (or phone) to assist you.